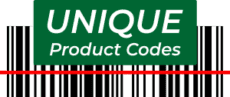 What is a barcode? Barcodes (or bar code) is a set of unique numbers that can represent a unique image that is machine-readable. These numbers are commonly used to store product information. The two most commonly used Barcodes are the 12-Digit UPC codes and the 13-Digit EAN (European Article Number) codes.

How did the Barcode system start? "Barcoding" was started in the 1970s by George Laurer in the USA. The first system was called UPC or Universal Product Code. Barcodes were first used to organize the multiple food products spawning in the country. In time, more and more industries adapted UPcCto better organize their products.

What is an EAN-13 Barcode? An EAN (European Article Number). Also known as (International Article Number) Is the barcode system used outside of Canada and the United States. The only difference between EAN and UPC codes is EAN consists of 13 digits and UPC consists of 12.

Will the barcodes I buy work on any product? Yes. Our UPC/EAN barcodes are suitable for use on any retail product.

Why should I get a Barcode for my product? Online retailers and brick-and-mortar shops that sell their products and use POS (Point-of-Sale) systems will need barcodes. There can be different barcodes available that can be used for products but the most popular product barcode type are UPC and EAN.

What is included in my order of Barcodes? All orders of Barcodes from Unique Product Codes come with the following: 1. Barcodes in EAN-13 Format 2. EPS and PNG Barcode Images

Can I use my barcodes for Amazon and eBay? Yes. our barcodes are valid for online retail registration in Amazon and eBay.

How many barcodes do I need? One for each product. Remember that you will need a barcode for each variation too. So if you are selling a T-shirt you will need a code for every color, size, and style. Buy a few extra just in case you have more products down the line.

Is there a country restriction on your barcodes? None at all. Our barcodes work worldwide.

When can I receive my barcodes? All orders of barcodes are instantly downloadable and a link is sent through email upon successful payment, unlike other businesses that will let you wait for days before fulfilling your order.

Will my barcode expire? No. Your barcodes will not require the yearly renewal fee. No annual fees are collected upon every order.